Priority RV Network® Advantage
Priority dealers are the "Road to the Campground." We only sell the finest RVs that provide you the freedom to take off and go anywhere anytime. Exploring new places, viewing nature the way few are able to do ...leisurely ...at your pace, not on someone else's schedule. We are the world's best RV group. Here's just a few of the many reasons why:
Priority RV Network®'s 4,000-plus dealership employees are dedicated to your total and complete satisfaction. Our goal is to become a partner in your RV experience... ready to assist you in making your RV lifestyle a dream come true.
We are the largest dealer service network in North America with 110+ Priority RV Network® locations for service in the USA and 61 RV Care dealers throughout Canada. 171+ locations ready to service your RV if you have a major emergency service problem. Before you buy elsewhere, ask yourself a question. Where will I get emergency service when I'm more than travelling 100 miles away from home?
We save you money! Our volume buying power of our network saves you money! It's a concept similar to your neighborhood mass merchandise stores. Our member dealerships can buy items at lower costs, thus offering you- a better value! See Priority RV Network® for more details
Add It All Up:
Having the industry's best RV products, people, service, financial services, parts, vehicle insurance plans and emergency service plan! That's why Priority RV Network® is the world's best RV group!
Stop in today... and see the difference!!!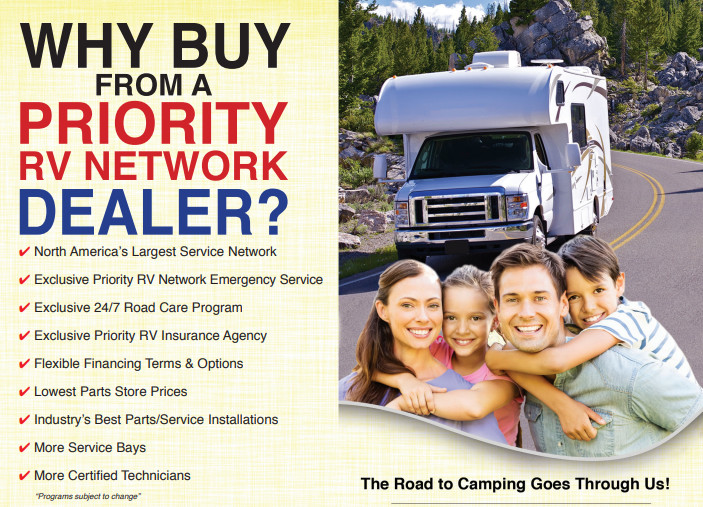 Qualities of a Priority RV Network® Dealership:
  Financial Stability
  Exceptional Customer Satisfaction
  High Dealership Sales Volumes
  Superior Parts and Service Facilities
  Outstanding Reputation with Manufacturers, Suppliers and Customers
  Quality of Personnel
  Commitment to Priority RV Network® Priority Service Program
Priority RV Network® membership is SELECTIVE! Priority RV Network® membership is an exclusive honor throughout the RV industry. Only the dealerships that meet a strict criteria are allowed to join. This ensures the best products and services will be offered to all customers.
Priority Rv Network® Programs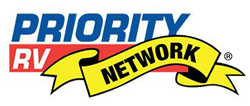 Emergency RV Service
Key tag holders receive Priority RV Network® emergency service at 171+ dealerships in the USA and Canada
Road Care
24/7 technical support and roadside assistance.
Parts Store
Offering a full line of RV parts and accessories at the lowest prices.
RV Insurance
Coverage designed specifically for Your RV and belongings.
Mission Statement
"Priority RV Network® mission is to provide innovative, convenient, value driven programs to an exclusive nationwide dealer network creating a competitive advantage for its members while providing value to their customers."